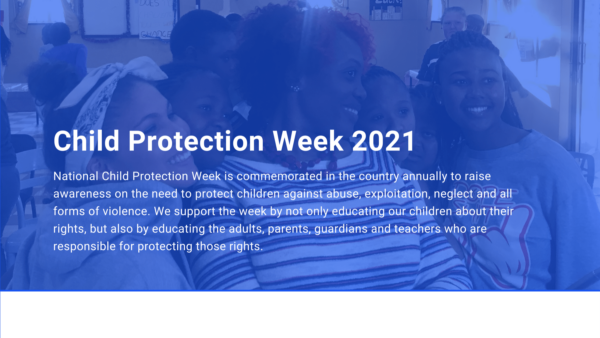 National Child Protection Week is commemorated in the country annually to raise awareness on the need to protect children against abuse, exploitation, neglect and all forms of violence. We support the week by not only educating our children about their rights, but also by educating the adults, parents, guardians and teachers who are responsible for protecting those rights.
On 27 May 2021 we at Girls and Boys Town South Africa (GBTSA) hosted a webinar to kick off Child Protection Week. The panellists included experienced psychologist and researcher Dr Sadiyya Haffejee, Jacqueline Michael – a senior supervisor at Jewish community services, a social work consultant for the Johannesburg Parent and Child-Counselling Centre and GBTSA Board member, Kowsie Govinden – the regional fundraising manager for GBTSA, Wessel van den Berg – Children's Rights and Positive Parenting unit manager at Sonke Gender Justice and Saneliswa Mqobongo – GBTSA Youth Development Manager and advocate for children's rights.
A 2020 report from Stats SA suggests that 60% of children are multidimensionally poor. The 2016 Optimus Foundation study conducted among 15 -17-year-olds revealed that 40% of these young people had experienced neglect and abuse of various types at some point of their lives. In the 63 years since GBTSA was established, the children that have walked through our doors have often left us agape with the trauma they have experienced.
The panelists have all seen kids that have experienced trauma and to gain their full expertise on how to protect children that have been through traumatic events we decided on the topic what science is teaching us about abused children in terms of their flight or fight responses, their way of building trust and the way they view adults. They also defined what trauma means, spoke to the experience of abused children's coping mechanisms and what to do to make things better.
Our experts have given the audience wonderful tips and examples reminding us that it is the small actions that count the most. Jacqueline Michael has said "I would like to just say to that each of us as an adult in society has a responsibility to be available to children within our atmosphere, our realm. And one of the things that children often told us was that all they want from adults in their life is time. They just want a bit of time. Now, I know that the stress of day living is up. But what we found is that parents who spend even just 15 minutes a day with their child, talking to them, relating to them, linking with them, gives their child a sense of belonging".
Dr Haffejee reminds us that sometimes it's not about fancy therapeutic methods, but just really being present and putting in the work to connect with a child.
We need to do better to co-create a society in which children have safer spaces and are allowed to live lives that nurture their potential from birth. As Jacqueline Michael mentions "if we can grow sound relationships and sound families, we can begin to heal some of the hurt in our societies." That will be a country where empowered children are indeed the future.
To watch the full webinar, click here