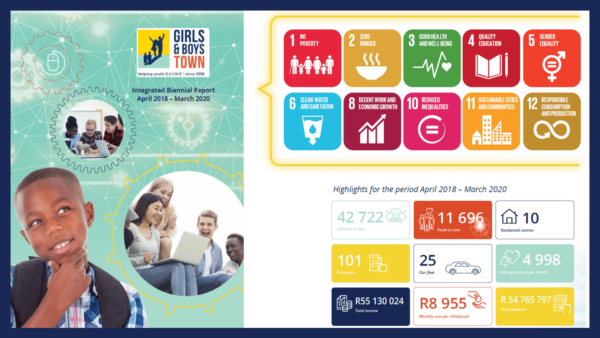 Our integrated biennial reports capture and help us share our work with donors, volunteers and partners, and once again, it is our pleasure to present you with the report for period 1 April 2018 to 31 March 2020.  It is a sincere attempt to communicate our full range of activities to beneficiaries, benefactors and stakeholders.
In addition to providing a broad overview of our operations, the publication encapsulates information on our strategy, funding base, risks and opportunities. Above all, the report reflects our vision of helping vulnerable youth and encouraging their adoption of the values we live by.
For the first time, however, in preparing the report, we applied the guidelines provided by the King IV™ Report supplement applicable to NPOs and have presented the value created by GBTSA in terms of various capitals.
We have also reflected on how we deliver societal value and how our core mission aligns with the United Nations 2030 Sustainable Development Goals. UN SDGs provide the best expression of what the 'better future' looks like – and proudly, GBTSA contributions directly advance these SDGs.
Click HERE  to download your copy.