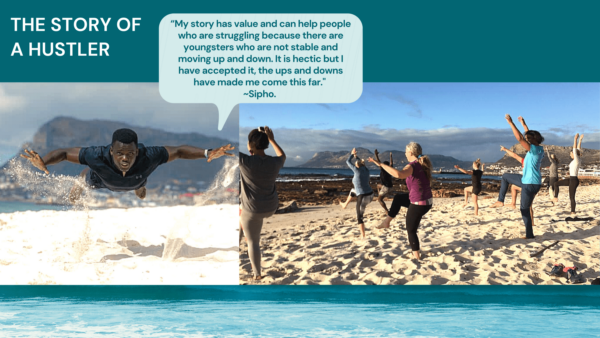 In June 2020, news starting spreading about menhirs – large stone monoliths – sprouting up around St James Beach in Cape Town. You can only imagine our delight when we heard that one of the artists involved was none other than one of our alumni, Sipho Njengezi. This bright, inspirational young man is staking his claim on the world and owning his future.
Like many of the children who spend time in our care, Sipho joined GBT because of a downturn in relationships with his foster family. When younger, he thought he had behaviour problems but he realised it was a matter of not being understood and that he needing to find for his true place and calling. Having being born in Johannesburg and subsequently taken in by a family in Cape Town, being adaptive is his nature.
"Moving around a lot has affected me but I guess God is in control and He wants me to move in certain places and influence people because of my story. My story has value and can help people who are struggling because there are youngsters who are not stable and moving up and down. It is hectic but I have accepted it, the ups and downs have made me come this far," says Sipho.
Since leaving care in 2017, Sipho has used the skills he attained at GBT to make a living. Now 22 years old, he has explored a few career options: at one time he was a chef at Glen Boutique Hotel. However, one of the constants in his life has been sport and his passion for rugby fuelled his success.
He achieved a personal fitness certificate from the Western Cape Sports Academy and incubated his business "Fitness with Sipho Njengezi". The initiative entails training sessions hosted in public spaces in the picturesque Kalk Bay. Basically, you get to spend time in gorgeous nature while working up a sweat – we couldn't be more jealous of his clientele.
Unfortunately, the pandemic progressed, unfortunately his business was not left unscathed. When lockdown was announced and public spaces like beaches and parks were closed during level 5 and 4, his business was not able to operate. He then sought to find ways to keep busy and maintain sound mental health, he turned to building menhirs – vertical rock art.
"Building the structures is a form of meditation for me personally and those structures represent the balance I am striving to achieve in my life," says Sipho.
It is during this period when he was invited by Three Ships Whisky to create a stone formation for their Three Ships Whisky Master's collection online sales which took place at the Norval Foundation where an audience watched him sculpting live.
Sipho embodies the resilience we all should strive for. We could not be prouder to see his successes and wish him all the best for the future.