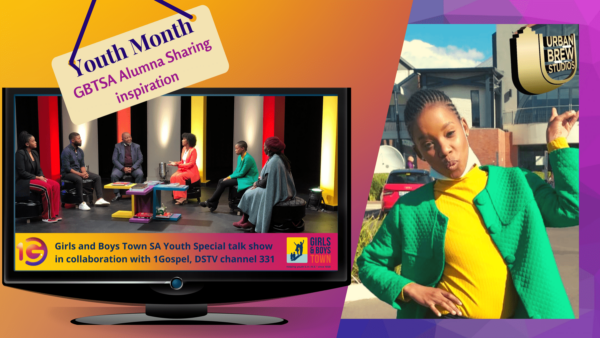 In recent years, there has been increasing acknowledgement of the important role mental health awareness plays in reducing stigma and creating more opportunities for support and care for those that need it. This June GBTSA had the opportunity to discuss Mental Health and the different issues that surround it on ONE Gospel with wonderful guests including our very own alumni, Matladi Twala. Matladi is passionate about sharing her story to help others overcome their challenges.
After catching up with her we realised that this would be a great opportunity to share her story and give you a bit of inspiration to overcome any obstacles especially related to mental health that you face.
Matladi has had her share of childhood traumas, abuse, neglect and loss. She, like most youth in our care came from an abusive family background. Matladi lost her mother at a tender age and she faced physical and emotional abuse, rejection and being made to be an outcast, rape and trauma. When her uncle and aunt took her in, it brought relief from a traumatic family lifestyle.
She was deeply troubled though and struggled to trust anyone. It was at this time that she presented with behaviour problems and was admitted to Girls and Boys Town SA.  She slowly learnt to overcome her difficulties and grow into a strong, positive individual. She completed her online course in ECD in 2017 and registered with Abraham Kriel for NQF Level 4 qualification in Child and Youth Care.
"I have learnt a lot in life, I have learnt to deal with depression and abuse. I moved passed the feeling of uselessness, of never feeling good enough. I have learnt to believe in myself and to take each day as it comes and I want to help others get past their negative image and to help them see themselves."
Matladi now works at KFC and is saving up to complete her education.  She knows that she has no chance at a brighter future without education and this has been her driving force in receiving her qualifications in child care. She would like to open her own organisation to help kids who don't have parents navigate through the troubles of life.
In her spare time, she loves playing netball and pretending to be on a TV show. Being invited to share her story on a platform like ONE Gospel has been a dream come true for her and she hopes that the discussion shared can inspire many others to overcome any mental health challenges they have.
To watch GBTSA's mental health segment that featured panellists like Jerry Mofokeng wa Makhetha, Lerato Makhetha, Gugulethu Nyatsumba, Matladi Twala and Saneliswa Mqobongo on ONE Gospel, click here.